CEO CONFIDENCE
RESULTS

2019
2018
2017
2016
2015
2014
2013
2012
2011
2010
2009
CEO CONFIDENCE INDEX
The Merchantec Capital CEO Confidence Index is a unique economic measure of the confidence of CEOs across the South African business landscape.
Gain insights into intended corporate hiring, capital and debt raising, Capex and future investments of South African companies and their leaders.
The questionnaire aggregates responses from over 1,000 CEOs of companies in both the listed and private environments. The Index therefore provides a comprehensive outlook of the South African economy going forward and is a leading indicator of the perceptions of business Executives.
The Merchantec Capital CEO Confidence Index was first released in Q2 2009 and is prepared on a quarterly basis.
Guest commentary from prominent CEOs including Mark Smith (FoneWorx Holdings Limited), Craig Venter (Allied Technologies Limited), Wayne Hook (Spar Group Limited) and Bernie Krone (EsorFranki Limited).
Q4 2019 
The Merchantec CEO Confidence Index recorded a 12.98% increase in CEO confidence in Q4 of 2019 to a score of 39.9, which is below the neutral score line of 50 points. The largest contributor to the drop in sentiment was economic conditions.
CEO's said that the continuous bailing out of SEO's by government, negatively impacts on our Sovereign rating. Most of the negative sentiment was directed at Governments inability to remedy ailing SOE, namely Eskom, SAA and Prasa. Some felt a slight level of comfort after SAA was put under business rescue.  Some CEO's believe that even if the SA Government manages to make positive change in policy, it will take a very long time to become investor friendly again, especially in the mining and commodity sector.
73.9% of CEO's indicated
that we would not stave off a Sovereign credit ratings downgrade by Moody's.
Basic Resources went down in confidence to a
score of 15.00 points, a 50% decrease.
Consumer Goods showed a decrease of 20.7%,
moving to a score of 42.14. The decrease in overall confidence was primarily
driven by the economic conditions.
Consumer Services Decreased slightly to 47.22, a 0.6% decrease.
Financials decreased by 14%.
Industrials decreased by 19.7%, moving to
a score of 37.35. The decrease in overall confidence was primarily driven by economic
conditions.
Technology recorded an increase of 15.3%,
this was driven predominantly by industry growth.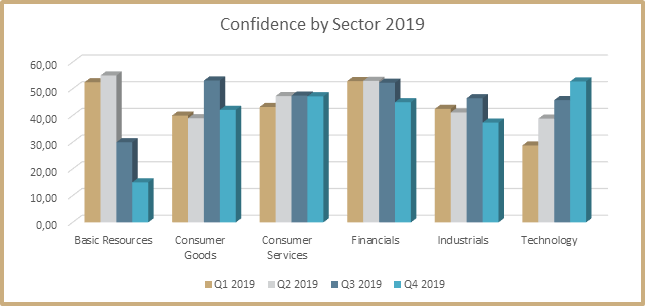 To view all previous quarterly reports, please visit Merchantec CEO Confidence Index.
More about the Merchantec CEO Confidence Index
The Merchantec CEO Confidence Index, which consists of five components, collates views from CEOs of top South African companies and therefore provides a leading indicator into how business leaders perceive local market conditions and the economy going forward.
The Merchantec CEO Confidence Index is a copyright report prepared quarterly by Merchantec Capital. The survey collates responses from over 1 000 top CEOs, from the listed and non-listed environment.
About Merchantec Capital
Merchantec is a leading independent corporate finance, equity and debt sponsor, and research and business advisory company in South Africa, with offices in Johannesburg, Cape Town and Windhoek, Namibia. Our team will guide you through relevant regulations, giving you comprehensive advice, and helping you structure and implement the most complex business transactions, from JSE and NSX listings, to mergers and acquisitions, equity and debt capital raising, valuations, and BEE structuring. With our partner associations, we also offer corporate governance and secretarial services, as well as some of the most widely respected research reports in the industry. We will help you grow your business.